---
Julius and Hens separately started messing with radio,
music, turntables, cassette-players (and frankly just
about anything that involved electronics in some
way or the other) somewhere in the mid-seventies.
Read here why/how we started working together.
---
---
Although he can't really remember, the first vinyl Julius
bought all by himself probably has been I Wish by Stevie Wonder.
Since that day he's been wasting most of his money on music.
The first vinyl Hens bought by himself was In Dulce Jubilo
by Mike Oldfield, a fact for which he is still
embarrassed beyond measure...

Those two vinyl singles marked the start of two cousins
destined to do all that's thinkable with music and sound.
They ended up cutting sound and mixing music,
little did they know about what craze it would become
in the music industry worldwide...
---
---
Suddenly there was D I S C O. Tracks by Blondie, Luv', ABBA
and Giorgio Moroder were their absolute first inspirations
when they started creating medley-montages which
were like trailers of albums by those artists.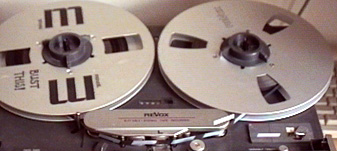 Whenever Julius and Hens would get together they became
very serious about their cassette-recording-mania, and
from jamming the pause-button it went upwards to cutting
and splicing quarter inch master-tapes on open-reel decks.
Occasionally they would even scare the shit out of
some unsuspected studio owner when they spliced
1 inch multitrack tapes 'just to see how it feels
to mess up one of them bad ass mothers'.
---
---
On average they sent each other cassette tapes by snail-
mail on a monthly basis for at least 8 years in a row !
Both of them were involved in pirate-radio and so
it was only logical to play mixes from those cassettes
on air. Friends at school and neighbors liked them a lot,
so they knew they had to be doing something right. Pretty
soon they had parties, dancings and larger radio stations
to create those mixes for, and they've never had a reason
thus far to stop playing around with music and sound...

Music has undoubtedly been their first love
and will probably be their last...

Click here for a listing of tracks by JTHZ
Click here for more like this
Sign or View the Guestbook





---


JT & HZ
a.k.a. Men Without Plan Enterprises
a.k.a. Natural Highness Future Productions

Technical details about the
mix creation processes will follow...

for the page where you can download
some of our multi-mixes and see tracklistings go here

Mixfreaks Link Collector
monthly MP3 from JTHZ vinyl collection
JT all time favorites | Mixes | HZ all time favorites
TheChosenFew - Headphones Air-Play Top 9
THE MIXFREAKS MAILINGLIST
CONTACT US

FTP server homemade stuff:
Old and New Music